Important information for exhibition:
Time :NOV. 24th-27th, 2020
Location:Shanghai New International Expo Centre
Booth No.:E6.781
Contact:18925055583(Ms. WU)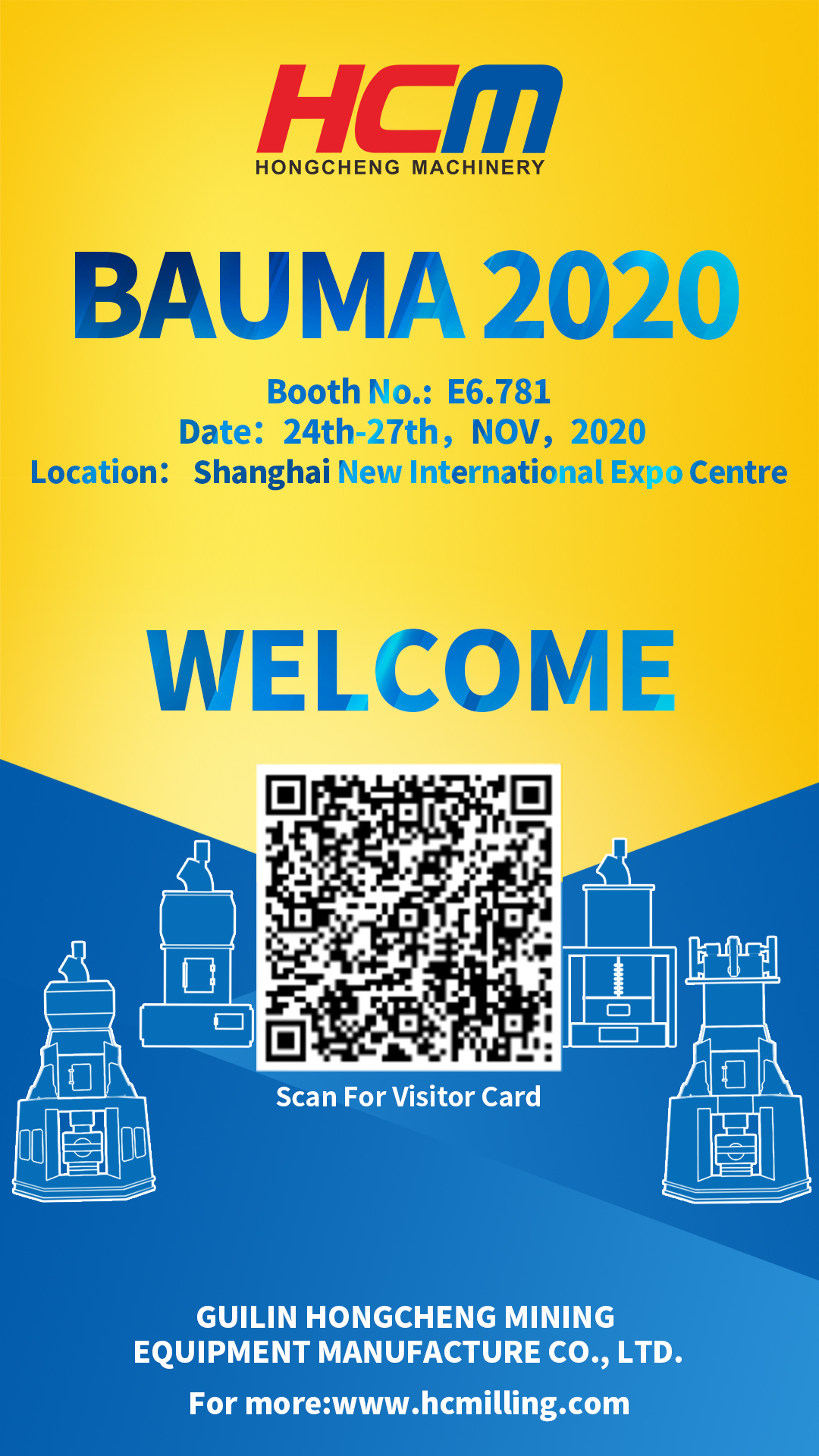 Brief introduction:
As a world-famous construction machinery exhibition, the biennial BMW exhibition attracts global construction machinery enterprises to compete with each other. High quality enterprises from all over the world use this grand exhibition stage. It shows tens of thousands of innovative products and process manufacturing to the global merchants, spreads the unique manufacturing quality to the world, and inherits the valuable craftsman spirit.
Bauma 2020 is a world-famous mechanical engineering exhibition in China. Every Bauma exhibition is a dazzling visual feast. On this grand stage, you can see the achievements of world industrial civilization and feel the artistic charm of high-tech products.
HCMilling(Guilin Hongcheng) is a well-known enterprise specializing in R & D and manufacturing of ore mill equipment. We not only produce the common Raymond mill, but also innovatively develop new vertical pendulum grinding mill, large-scale pendulum mill, ultra-fine mill, vertical roller mill, super-fine vertical grinding mill, complete set of calcium hydroxide production line and other equipment. Advanced technology level, is the mineral powder dry grinding customer's ideal partner.
Quality is the unswerving business philosophy of HCM; Service is the source of development that HCM adheres to for a long time; Innovation is the eternal source of vitality of HCM. We have been in close contact with the market, with keen market insight, absorb and learn from advanced technology. We innovative research and development of professional ore grinding mill in line with the market demand, always maintain the development mentality of innovative manufacturing, and escort the strength of grinding production line to generate income!
After decades of hard work, HCM's mill brand reputation at home and abroad, in the non-metallic ore, solid waste residue, thermal power plant, cement plant, coal mine and other powder industry market share increased year by year.
So far, Guilin Hongcheng powder Market in the recognition of customers. We are not only popular in the domestic market, but also expand the overseas market. HCM mills in Malaysia, Myanmar, Indonesia, South Africa, Russia, Vietnam, the Philippines and other countries continue to increase the number of orders, the development trend is good, favored and loved by customers.
Bauma CHINA 2020 is coming, Guilin Hongcheng sincerely welcomes you to Hongcheng Booth (booth number: E6.781) for a grand plan of development. On NOV. 24th -27th, we will see you there!