You may be wondering, what machine does the Raymond roller mill adopt to achieve micro-powder recycling? What kind of powder recycling analyzer is applied in producing the powders above 200 mesh?
It is suggested that you should not adjust the normal working state of Raymond roller mill, otherwise its normal working procedure will be changed. Some micro powder will be produced during the working of Raymond grinding mill which can be recycled by the dust removal. These available micro powder have pretty high fineness which generally above 200 mesh, and we can adjust the wind valve to control the output of micro powder.
HCmilling (Guilin Hongcheng) has been upgraded product with advanced new technology, thus each technical index of this equipment has been greatly improved, and the main technical indexes are in advanced status in China, the R series Series Roller Mill including 2R2713, 3R3220, 4R3216, 4R3218, 4R3220, 5R4119, 5R4121 5R4123, 6R5125 Roller Mill that applicable to grind various non-flammable and explosive materials like limestone, calcite, activated carbon, talc, dolomite, titanium white-powder, quartzite, bauxite, marble, feldspar, barite, fluorite, gypsum, ilmenite, phosphate rock, Clay, graphite, clay, kaolin, diabase, coal gangue, wollastonite, slaked lime, zircon sand, bentonite, manganese ore, etc., with Mohs hardness below 7 and humidity below 6%, and the fineness of the final powder can be adjusted between the range of 0.18-0.038 mm (80-400 mesh).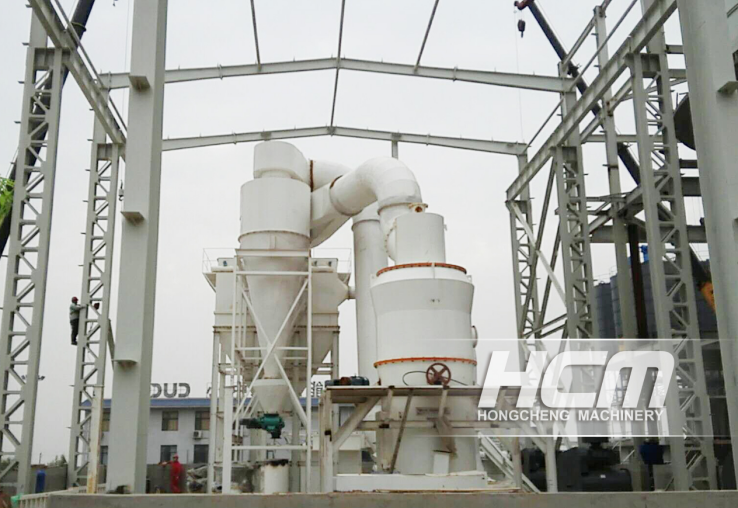 Raymond roller mill: HC1700 grinding mill
HCmilling (Guilin Hongcheng) 80-800μm grinding mill-Raymond roller mil:HC1700 pendulum grinding mill
Fineness of grinding materials: 25-30mm
Fineness of powder: 80-800μm
Capacity:  1-25t/h
Application range: any non-flammable and explosive material with Moh's hardness below 7 and moisture below 6% , widely used in the fields of electricity, metallurgy, cement, chemical engineering, construction materials, coating, papermaking, rubber,medicine, food, and etc.
Grindability of materials: any non-metallic minerals such as Dolomite, kaolin, potash feldspar, coal, barite, fluorite, talc, slag, petroleum coke, ash calcium powder, wollastonite, gypsum, limestone, feldspar, phosphate rock, marble, quartz sand, bentonite, graphite, manganese ore, etc.  
Product brief introduction: HC1700 belongs to HC series fine grinding mill, this series of equipment with high efficiency and energy saving are a technological innovation based on the R-type pendulum grinding mil.
HCmilling (Guilin Hongcheng) is a professional grinding mill manufacturer. Products including vertical roller mill, Raymond grinding mill and ultra fine grinding mill. The milling equipment adopts classifier so the fineness of powder is controllable. HCmilling (Guilin Hongcheng) is mainly engaged in manufacturing Raymond roller mill, vertical grinding mil and ultra-fine ring roller grinding that can grind the powders above 200 mesh.
HCmilling (Guilin Hongcheng) provides customized allocation solution of module selection, if you would like to know more about the Raymond mill, please let us know your grinding material, fineness and production requirement, and etc for customized service.