Which factory has the sale specialized grinding mill illite powder Raymond mill production line equipment? HCM can continuously provide Raymond mill, vertical roller mill, ultra-fine mill, super-fine vertical grinding mill and other equipment for non-metallic mineral powder grinding. The equipment grinds 200 mesh illite powder. HCM will customize the production line scheme for customers, and the mill process is more scientific. It is a special equipment to meet the needs of illite powder grinding.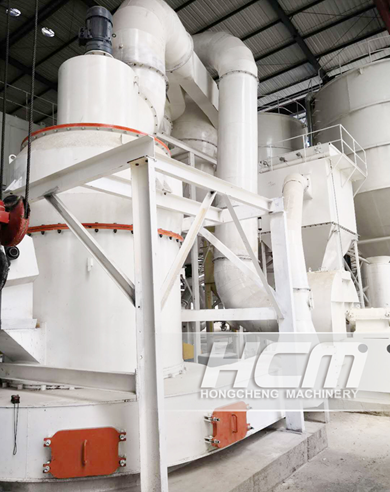 Introduction of Raymond mill for grinding mineral powder
Which manufacturer's Raymond mill has more stable performance? HCM is a professional grinding equipment manufacturing enterprise. We produce special ore mill equipment, grinding 80-400 mesh powder for the industry. HCM has HC vertical pendulum mill and HCQ improved mill and other new Raymond mill equipment to choose from.
HC vertical pendulum grinding mill
The Raymond mill is a new upgraded mill for grinding non-metallic mineral powder. It covers a number of patented technologies, and its performance indicators have been greatly improved. Its grindable materials can be marble, feldspar, barite, kaolin, gypsum, fluorite, bauxite and other ore powder, the equipment performance is reliable. The dust collecting efficiency is as high as 99%, and the mill is efficient and energy-saving. The equipment maintenance is more convenient, it adopts a new sealing structure design, the grinding roller device can realize 300-500 hours of filling grease, maintenance is more convenient.
HCQ reinforced grinding mill
This Raymond mill is a new type of grinding equipment successfully developed by HCM technology innovation. It adopts maintenance free roller assembly and new plum blossom frame structure. It has the characteristics of more reliable equipment operation, more convenient maintenance, high classification accuracy, large conveying capacity and large amount of shovel material. It is a special equipment for grinding 80-400 mesh non-metallic mineral powder with Mohs hardness below 7 and humidity within 6%.
What is the process flow of illite Raymond mill production line?
What is the process flow of illite Raymond grinding? The whole milling process can include crushing, grinding, grading and gathering.
The material is broken into the size that meets the specification by jaw crusher. The material is crushed and grinded by the roller. The ground powder is blown by the air flow of the blower to the classifier above the main engine for screening, and those that are too fine or too coarse still fall into the main engine for regrinding. If the fineness meets the specification, it will flow into the cyclone collector with the wind, and then it will be the finished product (the particle size of the finished product can be as high as 0.008mm).
Welcome to HCMilling(Guilin Hongcheng) at any time to visit and understand the factory scale, mill quality, after-sales service, etc. HCM provides tailor-made illite Raymond mill production line selection scheme, with more efficient and fast grinding production line for the project to increase production and income.
If you are in need of any non-metallic grinding mill, contact mkt@hcmilling.com or call at +86-773-3568321, HCM will tailor for you the most suitable grinding mill program based on your needs, more details please check www.hcmilling.com.