With which factory's activated carbon grinding mill equipment grinding activated carbon powder, powder rate is fast and high? HCM is an ISO certified enterprise. We are deeply engaged in the R & D and manufacturing market of flour mill. The newly upgraded Raymond mill equipment provided by HCM can meet the production demand of 80-400 mesh flour. HCM is a large mill manufacturer, providing scientific and reasonable ex factory quotation and matching the ideal selection scheme is conducive to the income generation and production increase of activated carbon powder project.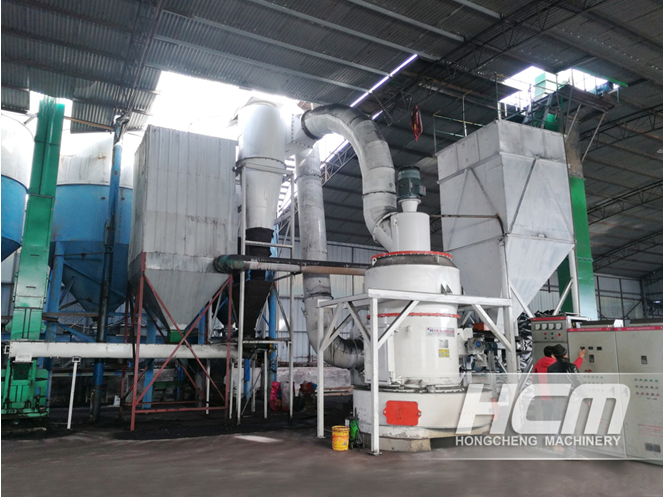 Professional manufacturers recommend the activated carbon Raymond grinding machine
In the grinding of activated carbon, marble, dolomite, limestone, barite, kaolin and other aspects, the professional Raymond mill equipment is HCM powder mill equipment based on the grinding market and innovated for the purpose of increasing production. It can increase production by 40% and save power consumption by 30%.
It can grind many materials, such as feldspar, barite, dolomite, fluorite, gypsum, calcium, etc.
The grinding fineness of the product can be adjusted, and the fineness of the finished powder can be adjusted between 80-400 mesh.
The production capacity of a single machine is high. Compared with R-type machine (with the same power), it increases by 40% % , hourly production capacity 1 - 25t

。
Stable operation, it uses quincunx frame, longitudinal pendulum roller, good structure, advanced and reasonable, less vibration.
More environmentally friendly. It uses pulse dust removal equipment, the dust collection rate reaches 99%, and there is no dust in the workshop.
Easy to maintain, easier. There is no need to remove the grinding roller to replace the grinding ring, so the maintenance is easier.
What is the ex factory quotation of activated carbon Raymond mill?
As a manufacturer, HCM has always been customer-centered, which will save investment costs, increase production capacity and yield, and create greater value for customers. How much is the ex factory quotation of activated carbon Raymond mill? HCM will customize the suitable selection scheme from the fineness, production capacity, installation site and other information of each project, and match the reasonable and scientific ex factory quotation of activated carbon Raymond mill.
Our grinding case is very many, the new Raymond Mill case is rich and colorful, interested customers are welcome to visit the factory at any time, and learn more about our grinding case.
HCM of Raymond activated carbon grinding mill takes the customer as the center and makes every set of grinding production line plan, which is conducive to creating value for the activated carbon project. If you are interested in the newly upgraded Raymond mill equipment, you are welcome to visit our factory. I believe our strength and brand influence will get your trust.
If you are in need of any non-metallic grinding mill, contact mkt@hcmilling.com or call at +86-773-3568321, HCM will tailor for you the most suitable grinding mill program based on your needs, more details please check www.hcmilling.com.