Aluminum ore plays a more and more important role in construction production, and the total production is increasing. As a by-product of production, aluminum plant waste residue is also increasing. The total loss of aluminum content in the waste residue of aluminum plant in the production process is 1-12%. HCMilling (Gulin Hong Cheng) can provide you with the best quality aluminum plant slag grinding mill machine and service. Many manufacturers want to use the waste residue of aluminum plant to solve the problem of environmental pollution and obtain good profits at the same time.
New outcome after crushing of waste residue in aluminum plant: resource utilization and turning waste into treasure
(1)Aluminum industry. Used in national defense, aviation, automobile, electrical appliances, chemical industry, daily necessities, etc.
(2)Precision casting. It is processed into fine powder and made into mould for investment casting. For military, aerospace, communications, instrumentation, machinery and medical equipment departments.
(3)For refractory products. The refractoriness of clinker powder from waste slag of aluminum plant is as high as 1780 ℃, with strong chemical stability and good physical properties.
(4)Aluminosilicate refractory fiber in waste residue of aluminum plant. Bauxite has the advantages of light weight, high temperature resistance, good thermal stability, low thermal conductivity, small heat capacity and mechanical vibration resistance. It is used in iron and steel, nonferrous metallurgy, electronics, petroleum, chemical industry, aerospace, atomic energy, national defense and other industries.
(5)It uses magnesia and bauxite clinker as raw materials, and adds appropriate binder, which is used to cast the whole barrel lining of steel ladle, and the effect is very good.
(6)Bauxite, cement, abrasives, ceramic industry and chemical industry can be made from waste residue of aluminum plant.
HLM series vertical roller mill can process waste residue of aluminum plant
There are so many uses of waste slag powder in aluminum plant. What is the best choice for special grinding machine of waste slag in aluminum plant? According to the feedback from the market and customers, we recommend HLM series vertical roller mill. Compared with the ball mill, the energy consumption is 40% - 50% lower, the single machine production capacity is large, according to the needs of production capacity. It can use 2, 3 or 4 rollers, up to 6 rollers. After years of dedicated research, it is very popular in the market.
HLM series vertical roller mill:
     *Disc diameter*:1000-52400mm
  *Moisture content of feed material*:≤5%
  *Capacity *:4-40t/h
*Product fineness*:10-45 μ The secondary classification of m-match can reach 5 μ m
*Application filed*:It is widely used in papermaking, coating, plastics, rubber, pigment, ink, PVC and other fields of production and life.
*Applicable materials*:It has high capacity and high efficiency for grinding of various nonmetallic mineral materials with Morse hardness below 7 and humidity less than 6%. For example, limestone, calcite, marble, heavy calcium, kaolin, barite, bentonite, pyrophyllite and other grinding effects are good.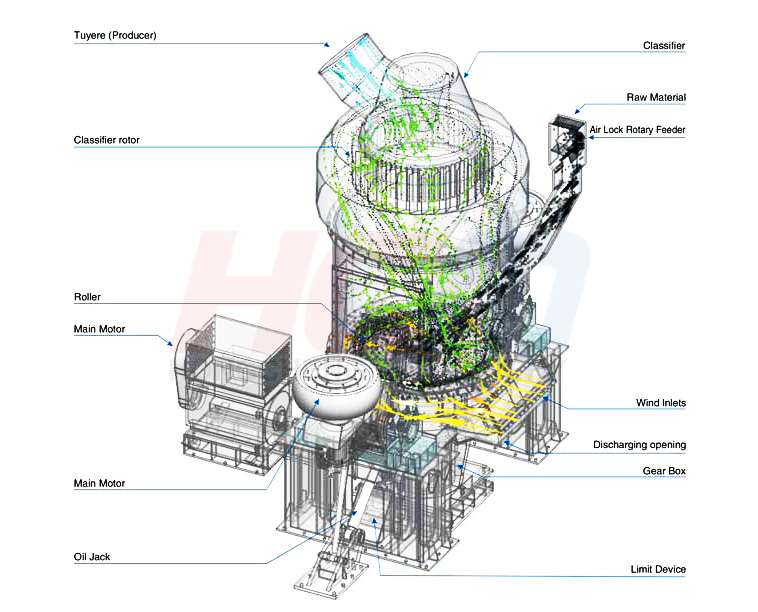 What's the price of a special grinding mill for aluminum waste residue?
How much is a special grinding mill for aluminum waste residue? According to the product quality, model, production power, the price will have some fluctuations. HCMilling (Guilin Hongcheng) has been focusing on grinding equipment for nearly 30 years, integrating R & D, production and sales. It has rich manufacturing experience, mature and stable technology. The technical equipment manager provides one-to-one service to provide you with a complete set of equipment with high quality and low price.
HCMilling(Guilin Hongcheng) is a professional R & D and manufacturer of ore mill equipment. The new Raymond mill, ultra-fine mill, vertical roller mill, super-fine vertical grinding mill and other equipment have high grinding efficiency and greater production capacity.
We have many offices all over the world. HCMilling (Guiling Hongcheng) will provide free model selection and detailed adjustment of model parameters according to your needs. If you have a demand for waste ceramic grinding mill equipment, pls contact mkt@hcmilling.com or call at +86-773-3568321, HCM will tailor for you the most suitable grinding mill program based on your needs, more details please check www.hcmilling.com.