The sand and stone industry has always been hot, even if the price fluctuates slightly, it still does not prevent enterprises from successfully giving up the right to purchase sand and stone at a high price. The price of albite sand is also rising, so how much is the price of albite sand grinding mill?
What is the main composition of albite sand?
Albite and K-feldspar are commonly used in feldspar, and there are obvious differences between them. The price of albite and K-feldspar is also different, and the price of albite sand is higher than that of albite. Albite sand belongs to plagioclase, and its Mohr hardness is 6-6.5, which mainly exists in microcrystalline and granite.
Main uses of albite sand
The use of albite sand is different, the price of albite sand will be different. The ultra-fine grinding of albite sand is mainly used in the manufacture of ceramics, soap, ceramic tiles, floor tiles, glass, abrasives, etc., and most of them are used in glaze and green body ingredients.
Which kind of grinding mill equipment is better for albite sand superfine powder?
325 mesh albite sand is 44 μ m. The grinding mill machine produced by HCMilling (Guilin Hongcheng) can meet the requirements of 22 mesh to 2500 mesh non-metallic ore grinding. According to the market feedback, the vertical roller mill of HCM is ideal.
Advantages of HCMilling(Guilin Hongcheng) vertical roller mill in grinding albite sand are as follows:
1. It is easy to detect the particle size distribution and chemical composition of the product, reduce repeated grinding, and the product quality is stable.
2. Green environmental protection, low system noise, no dust spillover, can basically achieve no dust workshop.
3. The seal is reliable, and there is no need to seal the fan, which further reduces the oxygen content in the mill and has excellent explosion suppression performance.
4. High grinding efficiency, 40% - 50% lower energy consumption compared with ball mill.
5. Convenient maintenance and low operation cost.
6. Strong drying ability, the highest moisture content of feed can reach 15%.
7. Vertical roller mill integrates crushing, drying, grinding, grading and conveying, with low comprehensive cost and direct reduction of enterprise investment cost.
8. It adopts PLC automatic control system, simple operation and high degree of automation.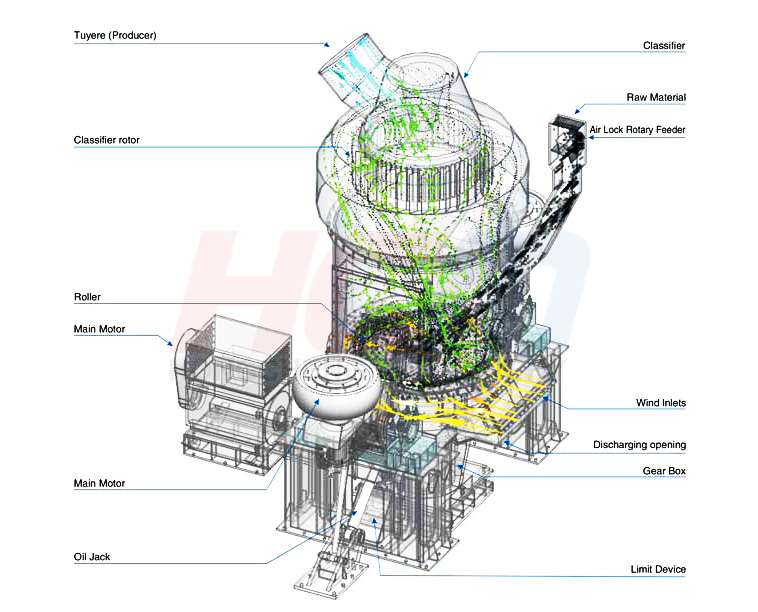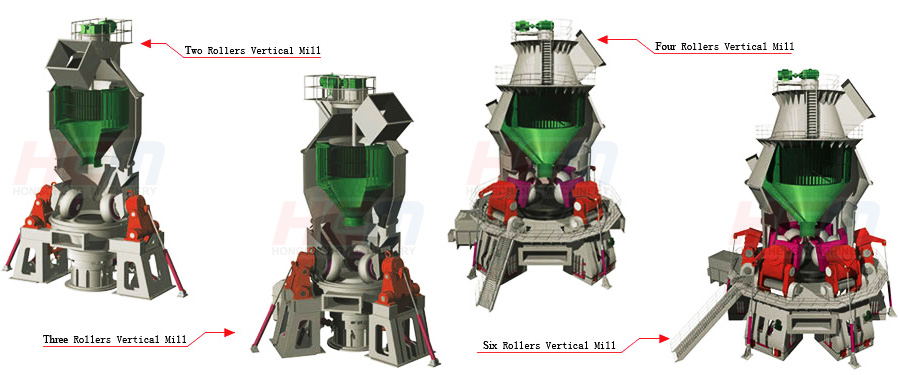 HCMilling (Guilin Hongcheng) has always been engaged in the R & D and production of powder equipment, and now it has become a benchmark enterprise of powder equipment manufacturing in China. HCM has rich experience, mature technology and guaranteed equipment quality, which can be your ideal partner.
If you have a demand for grinding mill equipment, pls contact mkt@hcmilling.com or call at +86-773-3568321, HCM will tailor for you the most suitable grinding mill program based on your needs, more details please check www.hcmilling.com.