Most Raymond mills are installed outdoors, not only need to overcome the high temperature conditions, but also need to overcome the heat generated by more than ten hours of continuous operation. Therefore, the correct use of Raymond Mill in high temperature working environment is a problem of great concern to many mill manufacturers and customers.
Four methods to correctly use Raymond Mill:
1. Professional personnel shall clean the pipes of grinding roller, grinding ring, powder collector, motor, fan, dust removal equipment and supporting equipment regularly. It can not avoid the material remaining in the fuselage, to ensure that all parts are in normal working state.
2. Check every link of Raymond Mill regularly to avoid the looseness and falling of screws in all parts of the fuselage, which will affect the normal operation of the fuselage.
3. Maintain the whole machine regularly, and replace the necessary parts according to the instructions.
4. It needs to form Raymond Mill inspection system, regular high-frequency inspection, especially the inspection of vulnerable parts, to avoid major problems of the fuselage.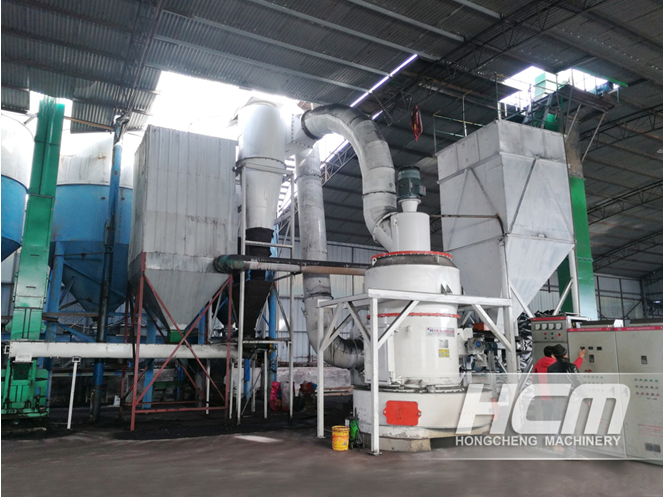 Introduction of Raymond mill machine produced by HCM:
Raymond mill also known as Raymond mill, Raymond machine, mill. It is a common industrial grinding equipment, which has irreplaceable market value in mineral grinding processing. Many mining machinery and equipment manufacturers have made a lot of improvements on the basis of the old Raymond mill, so that the performance and efficiency have been greatly improved.
The HC series new grinding mill of HCM has an output of 45 tons per hour, covering 5 invention patents. Its output is 2.5 to 4 times higher than that of similar 5R equipment, and its grindability is 38-180 μ M. It is suitable for grinding materials such as white market games, titanium dioxide, bauxite, feldspar, barite, fluorite, gypsum, ilmenite, etc. The equipment has the advantages of reliable operation, convenient maintenance, more reasonable design structure, high production capacity, low energy consumption, large conveying capacity and more scientific process. HCMilling(Guilin Hongcheng) can provide you with tailor-made design services, one-to-one to provide a complete set of grinding line solutions.
If you are in need of any non-metallic grinding mill, contact mkt@hcmilling.com or call at +86-773-3568321, HCM will tailor for you the most suitable grinding mill program based on your needs, more details please check www.hcmilling.com.