Recently, a new round of rise in oil prices has started. Barite is an ideal weighting agent for oil exploitation, and the demand for barite has soared. The demand for barite increases sharply with the oil price, mainly because the demand for barite is 1 ton for every 30 meters of drilling, and the consumption accounts for almost half of the output of barite powder.
Barite is mainly composed of barium sulfate (BaSO4), with Mohr 3-3.5 and specific gravity 4.0-4.60. It has the advantages of insoluble in water, high density, good filling, non-toxic, easy to absorb, etc. it has a high proportion of barite demand in chemical industry, petroleum, building materials, medicine and other industries.
Application of barite:
1) .The demand of 325 mesh barite is mainly used for mud weighting agent. At present, mud weighting agent for drilling is widely used.
2) .About 1250 mesh barite is mainly used in Lithopone pigment as raw material for paint and painting pigment.
3) .About 800 mesh barite demand is mainly used in the manufacture of barium oxide, barium carbonate, barium chloride, barium nitrate, precipitated barium sulfate, barium hydroxide and other chemical raw materials.
4) .The demand of barite over 2000 mesh is mainly used in paint filler to increase the thickness, strength and durability of paint film.
5) .The demand of barite from 500 mesh to 1250 mesh is mainly used as fillers for papermaking, rubber and plastic industries.
6).The demand of 325 mesh barite is for anti radiation cement, mortar and concrete.
Professional equipment grinding 325 mesh to 2000 mesh barite
After the test of time and market, the vertical superfine grinding mill produced by HCMilling(Guilin Hongcheng) is a good choice used as barite grinding mill.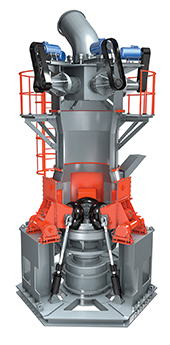 Features: HLMX superfine vertical grinding mill has high separation efficiency, 30% - 50% energy saving, instead of imported mill, PLC automatic, low noise, more environmental protection.

Product fineness:The particle size of the finished product is 7-45 μ M (with secondary grading up to 3 μ m) Any adjustment.
Capacity:The production capacity of single machine is large, the output has won a number of national patents, and the milling process is at the leading level in the world.
Applicable materials:HLMX superfine vertical grinding mill is suitable for processing superfine powder of barite, limestone, calcium carbonate, marble, calcite and other non mineral products.
If you are in need of any non-metallic grinding mill, contact mkt@hcmilling.com or call at +86-773-3568321, HCM will tailor for you the most suitable grinding mill program based on your needs, more details please check www.hcmilling.com.