Which equipment is better for grinding barite powder? HCMilling(Guilin Hongcheng) recommended a new 80-400 mesh barite Raymond mill. It is an ideal raw powder Raymond mill equipment with rapid production increase of more than 40%, good powder quality, stable mill operation, high cost performance and large capacity. You are welcome to visit the factory at any time.
Introduction of barite Raymond Mill
The special grinding machine is used to grind barite, dolomite, limestone, marble and other non-metallic ores. It can not only realize environmental protection production, but also has high efficiency, large powder yield and excellent grain size. It is a special equipment for many new and old customers and partners. The new Raymond mill has a number of patented processes, 40% production increase, large capacity, low energy consumption, and 99% dust collection efficiency with pulse dust collector.
Process flow of 80-400 mesh barite Raymond Mill
The process flow of the whole set of grinding mill equipment mainly includes crushing, grinding, grading and powder collection. Let's take a look at the process flow.
Crushing-------The raw ore can be crushed in the crushing room to meet the feed particle size.
Grinding------- the material is sent between the grinding roller and ring, crushed and ground by roller grinding.
Classification -------blow the powder to the classifier above the main machine for screening.
Powder collection------- collect the finished product with a dust collector, and the coarse powder will be grinded again until it is qualified.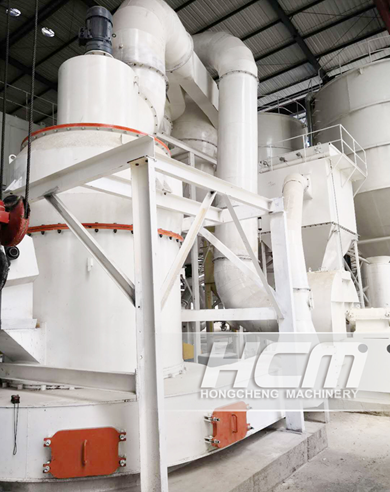 Price of 80-400 mesh barite Raymond Mill
The price of equipment depends not only on the manufacturer, but also on the equipment model, selection scheme, market supply and demand, etc. HCMilling (Guilin Hongcheng) provides one-to-one selection scheme service for different barite grinding mill projects. The fineness, production capacity and installation site of each project are directly related to the scheme customization and quotation. If you want to know more detailed product requirements, you may as well come to our factory for in-depth discussion. HCM's professional solution team will work with you to solve problems and provide more suitable grinding production line solutions and equipment quotations.
HCM recommends that you use 80-400 mesh barite Raymond mill to grind ore powder within 400 mesh. HCMilling (Guilin Hongcheng) directly supplies new Raymond mill equipment to help you increase production by more than 40%. Please call the hotline for more details.
If you are in need of any non-metallic grinding mill, contact mkt@hcmilling.com or call at +86-773-3568321, HCM will tailor for you the most suitable grinding mill program based on your needs, more details please check www.hcmilling.com.