"Quality is the foundation of survival and service is the source of development". If an enterprise wants to have long-term development, excellent product quality is the foundation, and good reputation and reputation are the guarantee. In the 30 years of development, HCMilling (Guilin Hongcheng) has established a complete production management system to strictly control each production process of the product. We strictly control the quality of each product delivered, not only opening up the global market, but also extending the service territory. From business reception to scheme support, from installation and commissioning to after-sales training, the standardized value-added service system runs through the whole process, and the serialized and differentiated technical support covers all aspects. Just to create perfect quality and brilliant foundry industry!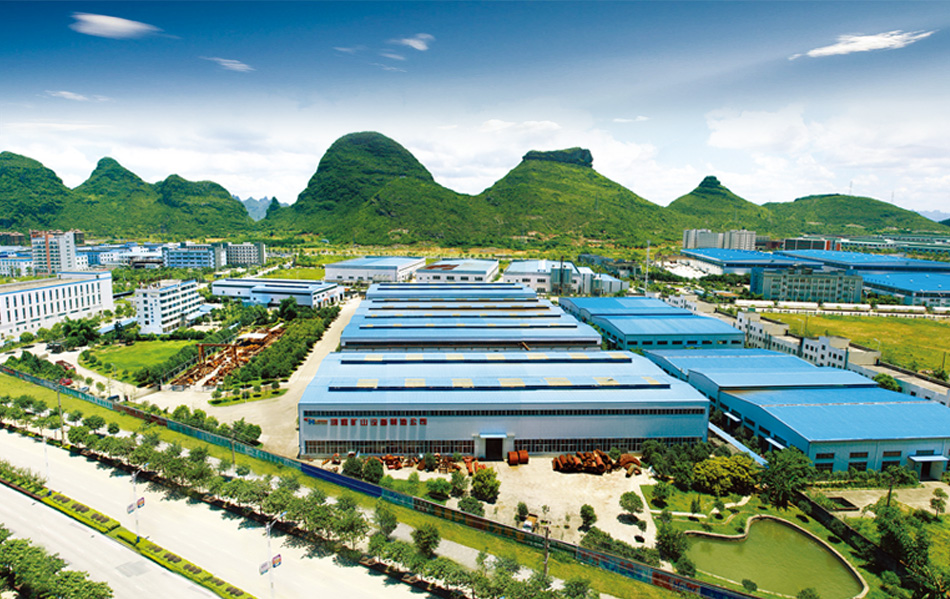 Hard core strength: processing, casting and assembly
HCM group has 170000 square meters of Yangtang Industrial Park production base in Xicheng Economic Development Zone, Guilin. The production scale of the whole industry chain, ensure quality and quantity, and timely and effective delivery of each order. More than 950 mu of HCM high-end equipment intelligent manufacturing industrial park to be delivered will achieve an annual production capacity of 2465 complete sets of equipment such as grinding mill, sand powder integrated machine, large crusher and mobile crushing station. HCMilling (Guilin Hongcheng) will go further to large-scale, lean and information production.
01 Processing and casting quality assurance
The advantages of the grinding mill produced by HCMilling (Guilin Hongcheng) are not only reflected in the innovation and upgrading of core technology, but also in the process of processing and casting production, we never forget our original heart, and carry out strict control from welding to painting to trial operation, precision casting and quality assurance.
02 Fine assembly, quality and quantity
As a benchmark enterprise for powder equipment manufacturing in China, HCMilling(Guilin Hongcheng) strictly controls the processing accuracy and assembly quality of equipment. We have been committed to providing customers with high-quality products, providing strong support and guarantee for customers to win the market, which is conducive to the gradual progress of powder processing to large-scale and intelligent production.
Ingenuity quality: high efficiency, environmental protection and intelligence
The company's main products include HLM series vertical roller mill, HLMX series super-fine vertical grinding mill, HCH series ultra-fine mill, HC series vertical pendulum grinding mill, sand making machine, calcium hydroxide production line and supporting wear-resistant products and electromechanical equipment, which are widely used in infrastructure construction, mineral deep processing, solid waste recycling, energy conservation and emission reduction, environmental protection, iron and steel metallurgy, chemical industry Power and other industries. 
01  Increase production and efficiency and create direct value for enterprises
HCM has been rooted in the grinding field for 30 years and has successively improved the traditional Raymond mill. We have developed and produced a new vertical pendulum Raymond mill to improve production capacity and reduce wear. Introduce foreign advanced technology, develop and produce vertical roller mill, and realize the process of grinding and drying. Breaking through the bottleneck of ultra-fine powder processing capacity, HLMX series super-fine vertical grinding mill has become an ideal equipment for large-scale production of ultra-fine powder.
02 Green environmental protection and energy saving, easy to pass the EIA
HCM's production line is designed in strict accordance with the concept of green mine development to ensure environmental protection first. At this stage, our pulse dust collection rate reaches 99.9%, and the equipment operates under full negative pressure, basically realizing a dust-free workshop. This can ensure that the production process is green, environmentally friendly and pollution-free.
Intimate service: reception, commissioning and training
Pre-sales, warm business reception, in sales, customized solutions, after-sales, standardized and systematic service policies. HCM has established more than 30 offices, and many foreign service points such as Vietnam, Malaysia, Indonesia and South Africa are being opened in an orderly manner. HCM has been fulfilling our commitment to customers: providing quality and quantity products, providing valuable services, and making our cooperation simple and reliable!
01 Comprehensive pre-sales investigation
Every customer is welcome to inspect every production process and have an in-depth understanding of every site of HCM. We will work together with you to fully understand HCM's enterprise strength, product details, development vision and team style.  
02 Fine processing in sales
HCM will respect the opinions of customers, customize professional solutions for customers, and build a perfect quality management system, system and standardized service guarantee system to ensure that each link is implemented in place and the products are strictly inspected before leaving the factory. Provide free logistics information and strictly arrange delivery.
03  Worry free after-sales service ensures all the way
HCM is anxious for customers, and the production and assembly workshop responds quickly. Many equipment can complete production, inspection, packaging and other links within three months. We will conduct strict quality inspection for each equipment and keep records, and ensure that each equipment delivered to customers is safe and intact.
At the end of the project, we will follow up and return visit from time to time to solve problems and give more technical guidance at the first time.  
HCM has a special parts workshop with complete accessories, which can timely transfer goods and accessories for customers.
Moreover, HCMilling(Guilin Hongcheng) invests huge R & D funds every year in the field of technical personnel training and new product R & D, making "wisdom" a strong reliance for products. HCM has more than 70 national invention patents, appearance patents, utility model patents and other patented technologies, has passed iso9001:2015 international quality management system certification, has independent export rights, and is the main powder equipment manufacturing enterprise and export base in China.
After 30 years of quality pursuit, in the grinding mill manufacturing production line, from the selection of raw materials to finished product manufacturing, quality control and other links, the HCM team has been controlled layer by layer and cast with ingenuity to fully escort each mill leaving the factory.
If you need grinding mill equipment, please contact mkt@hcmilling.com or call at +86-773-3568321, HCM will tailor for you the most suitable grinding mill program based on your needs, more details please check www.hcmilling.com. We will carry out one-on-one equipment matching and scheme design for you, and give you the latest quotation according to your needs.