What equipment can grind pyrophyllite, boehmite pyrophyllite and other minerals? HCMilling (Guilin Hongcheng) powder equipment factory is market-oriented, and the new improved Raymond mill equipment developed can meet the grinding needs of these ore grinding projects. This paper mainly introduces the improved mill developed by HCM to customers from the aspects of product characteristics.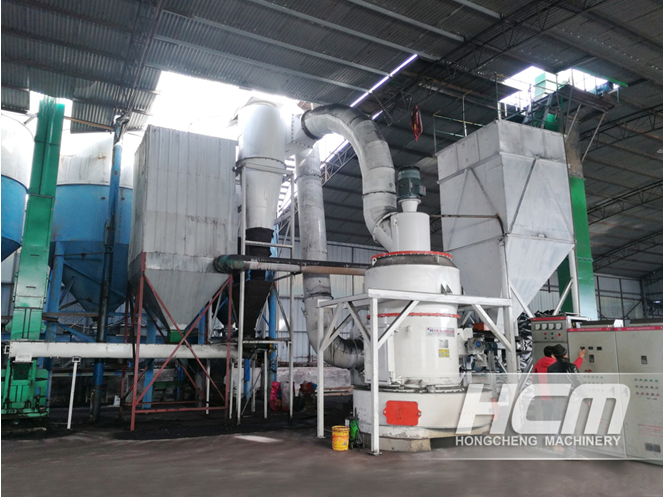 Advantages of Raymond mill for boehmite pyrophyllite
What mill is a special pyrophyllite mill equipment? Grinding pyrophyllite, dolomite, talc and other ore powders, and applying improved Raymond grinding equipment not only improve production and efficiency, large shoveling amount, but also have good environmental protection effect, green and energy saving. It is an advanced equipment for income generation of pyrophyllite ore project.
1) Stable operation
Patented processes such as maintenance free grinding roller assembly and new plum blossom frame structure make the operation of the whole set of equipment very stable and excellent performance.
2) Large output
The equipment is a traditional mill upgrading product, with fast system upgrading, reasonable configuration and large output.
3) Good grading
Large blade turbine classifier, higher classification efficiency.
4) Large conveying force
The high-pressure centrifugal fan is used, with large air volume and air pressure, and the conveying capacity is further improved.
How to select the type of grinding mill?
A scientific and reasonable selection scheme can be obtained by tailor-made. HCM powder equipment factory understands the grinding requirements of each project in the whole process, and then customizes reasonable selection and product quotation. So, what needs to be mastered? Fineness, production capacity, installation site, etc. these basic needs need to be mastered. Only by understanding customer needs can we reasonably customize the scheme and equipment quotation.
Grinded boehmite pyrophyllite, a new generation of improved Raymond mill equipment is the equipment for grinding 80-400 mesh powder, which improves production efficiency, environmental protection and noise reduction, more advanced grinding technology and higher work efficiency.
If you are in need of any non-metallic grinding mill, contact mkt@hcmilling.com or call at +86-773-3568321, HCM will tailor for you the most suitable grinding mill program based on your needs, more details please check www.hcmilling.com.