HCMilling(Guilin Hongcheng) superfine vertical mill is a kind of superfine vertical mill machinery. It is the main grinding equipment in various ultra-fine powder manufacturing lines. HCMilling(Guilin Hongcheng) produces super-fine vertical grinding mill with many models and fine powder grinding fineness.
Super-fine vertical grinding mill model of HCM_ Attached parameters
The ultra-fine vertical mills produced by HCMilling(Guilin Hongcheng) include HLMX1000, HLMX1100, HLMX1300, HLMX1500, HLMX1700, HLMX1900, HLMX2200, HLMX2400 and other models. They are named after the preset grinding disc diameter. The preset feed is 30-50mm, which can be used for pulverizing in most mining industries. Such as limestone, calcium carbonate, calcite, marble, heavy calcium, kaolin, barite, bentonite, etc. With its scientific and reasonable design and unique structural advantages, the ultra-fine vertical mill of HCMilling(Guilin Hongcheng) can replace the imported ultra-fine vertical mill with high efficiency, high yield, environmental protection and energy saving, uniform product particle size, and the fineness reaches 3μm after secondary classification.
Model

Grinding disc diameter(mm)

Moisture of raw material into the mill

Fineness of finished product

Capacity

HLMX1000

1000

≤5%

7μm-45μm 
The smallest fineness can reach 3μm
(With multi-head high fine powder classification system)

3-12

HLMX1100

1100

≤5%

4-14

HLMX1300

1300

≤5%

5-16

HLMX1500

1500

≤5%

7-18

HLMX1700

1700

≤5%

8-20

HLMX1900

1900

≤5%

10-25

HLMX2200

2200

≤5%

15-35

HLMX2400

2400

≤5%

20-40
Note: due to different materials and different output, the above data are for reference only.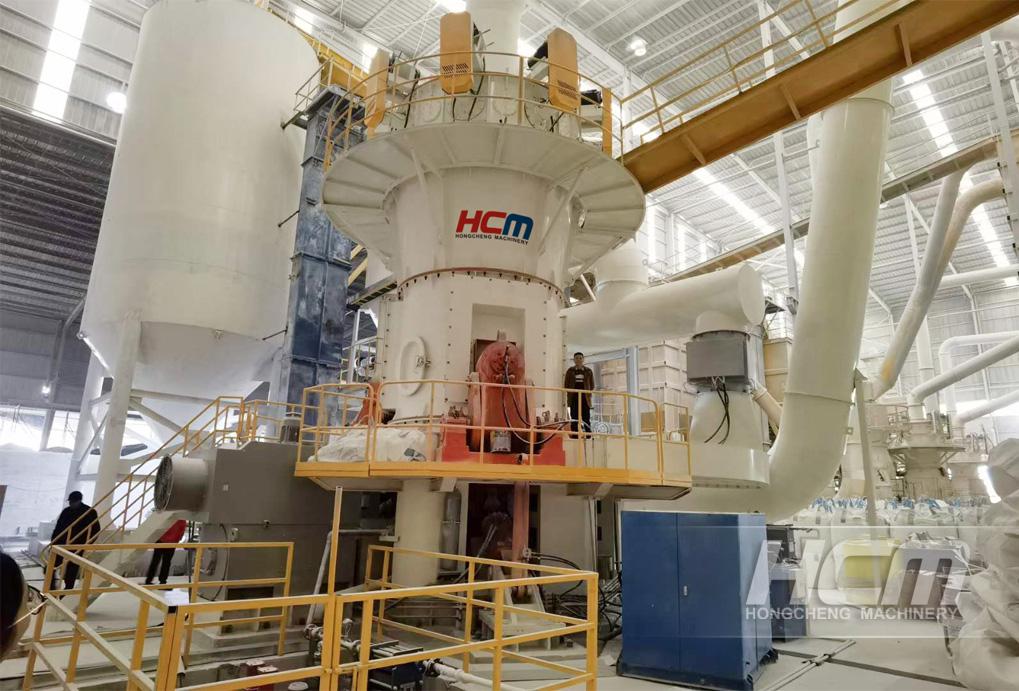 Daily output of HLMX superfine vertical grinding mill
HLMX ultra-fine vertical grinding mill is mainly a large-scale equipment suitable for large-scale production. Therefore, whether considering the adaptability of materials or time production, the ultra-fine vertical grinding mill produced by HCM has obvious advantages in ultra-fine powder production. What is the daily output of ultra-fine vertical grinding mill?
In general, the preset capacity of Hongcheng ultra-fine vertical mill can reach 1-40t / h. Due to the influence of operation mode, operation environment, materials and other factors, the actual production output value of HLMX ultra-fine vertical mill purchased by the customer needs to be determined according to the actual production situation of the customer. As long as after the customer's trial grinding, there is no problem that the daily output meets the standard when the engineer carries out scheme design and selection, installation and production and operates properly!
In the production of HLMX ultra-fine vertical mill, it is suggested that we should not overload production. Overload production is too heavy for equipment and unfavorable to long-term investment. Therefore, when selecting production equipment, customers must select an appropriate amount of production to better handle materials.
Field case of ultra-fine vertical mill of HCM
HCM ultra-fine vertical grinding mill is specially used for ultra-fine grinding materials in production. It has the advantages of environmental protection and energy saving, low noise, less dust and small floor area. The following is the production site case diagram of HLMX ultra-fine vertical grinding mill for your reference.
HCMilling (Guilin Hongcheng) has many ultra-fine vertical mill engineering cases and flexible configuration schemes. It can be used in coal production line, calcium carbonate production line and limestone production line to meet the production conditions of different customers. For specific situations, you can consult HCM to provide you with more configuration schemes, or you can consult online for free to obtain preferential quotations!
If you are in need of any non-metallic grinding mill, contact mkt@hcmilling.com or call at +86-773-3568321, HCM will tailor for you the most suitable grinding mill program based on your needs, more details please check www.hcmilling.com.