What equipment can be conducive to the comprehensive utilization of coal gangue? Using professional grinding mill equipment can increase production and income of solid waste residue? In the field of coal gangue grinding, HCMilling(Guilin Hongcheng) recommends you to adopt new Vertical roller mill equipment to realize the value of recycling. HCM's coal gangue vertical roller mill has higher pulverizing efficiency and greater production capacity, which is welcomed by customers.
Vertical mill for coal gangue powder mill
Vertical roller mill equipment is not only a right-hand assistant for solid waste residue projects such as coal gangue, slag, water slag and fly ash, but also an important equipment to promote the solid waste residue market to realize the value of recycling. HCMilling(Guilin Hongcheng) adopts a new type of Vertical roller mill equipment, which is a professional grinding mill with energy conservation and environmental protection, integrating crushing, pulverizing, grading and powder collection. The equipment has a scientific and reasonable design structure, which can meet the grinding needs of cement raw meal, clinker, lime powder for desulfurization in power plant, slag micro powder, manganese ore, gypsum, coal gangue and other projects.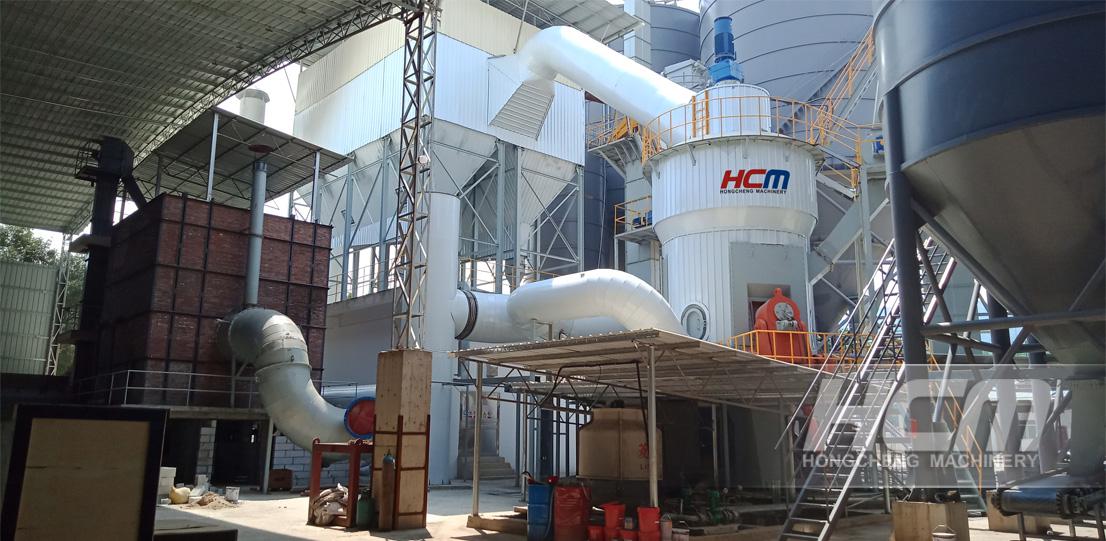 (1)Technical parameters and characteristics of vertical mill
The vertical roller mill is a high-end environment-friendly pulverizer painstakingly developed by HCMilling(Guilin Hongcheng). The performance of the product has reached the advanced level. It is a professional equipment to break through the disadvantages of traditional pulverizing mechanism and realize efficient production.
HCM mineral powder grinding mill ----HLM vertical grinding mill
  〖Product fineness〗:22-180μm
  〖Production capacity〗:5-700t/h
〖Grinding filed〗:It is aimed at various non-metallic mineral materials with Mohs hardness below grade 7 and humidity within 6%. The mill is widely used in power, metallurgy, cement, chemical industry, rubber, coating, ink, food, medicine and other production fields.
  〖Performance characteristics〗:It integrates drying, grinding, grading and transportation. It has the characteristics of high grinding efficiency, low power consumption, large feed particle size, easy adjustment of product fineness, simple equipment process flow, small floor area, low noise, small dust, simple use and maintenance, low operation cost and low consumption of wear-resistant materials.
(2)Quotation of coal gangue powder mill and vertical mill equipment
HCMilling(Guilin Hongcheng) will customize the exclusive selection and configuration scheme for coal gangue customers and friends, so as to give a more scientific and reasonable equipment quotation. If you need to grind coal gangue ore powder, you are welcome to provide detailed grinding fineness, production capacity, equipment installation area and other information before sales. We can tailor-made exclusive selection and configuration scheme and equipment quotation for you.
Perfect service of HCMilling(Guilin Hongcheng)
If you choose a large manufacturer, not only the product quality is guaranteed, but also the after-sales service is more perfect. HCMilling(Guilin Hongcheng) has a complete set of pre-sales, in-sales and after-sales services to respond to customers' needs 24 hours and provide more timely, faster and more efficient products and services.
In the field of coal gangue grinding, you are welcome to visit and understand HCMilling (Guilin Hongcheng), a manufacturer of professional coal gangue Vertical Pulverizer equipment at any time. We customize the complete selection and configuration scheme of the exclusive coal gangue vertical roller mill which can provide better equipment support for your solid waste residue to turn waste into treasure.