Bentonite is a kind of clay mineral with montmorillonite as the main component, usually called white earthy block. Bentonite vertical mill is used to grind it to a certain fineness and retain a certain amount of interlayer water. It has special properties such as plasticity, binding, suspension, adsorption, decolorization, etc. It can be widely used in casting, iron ore, drilling, building materials, paper, and other industries, with great use value.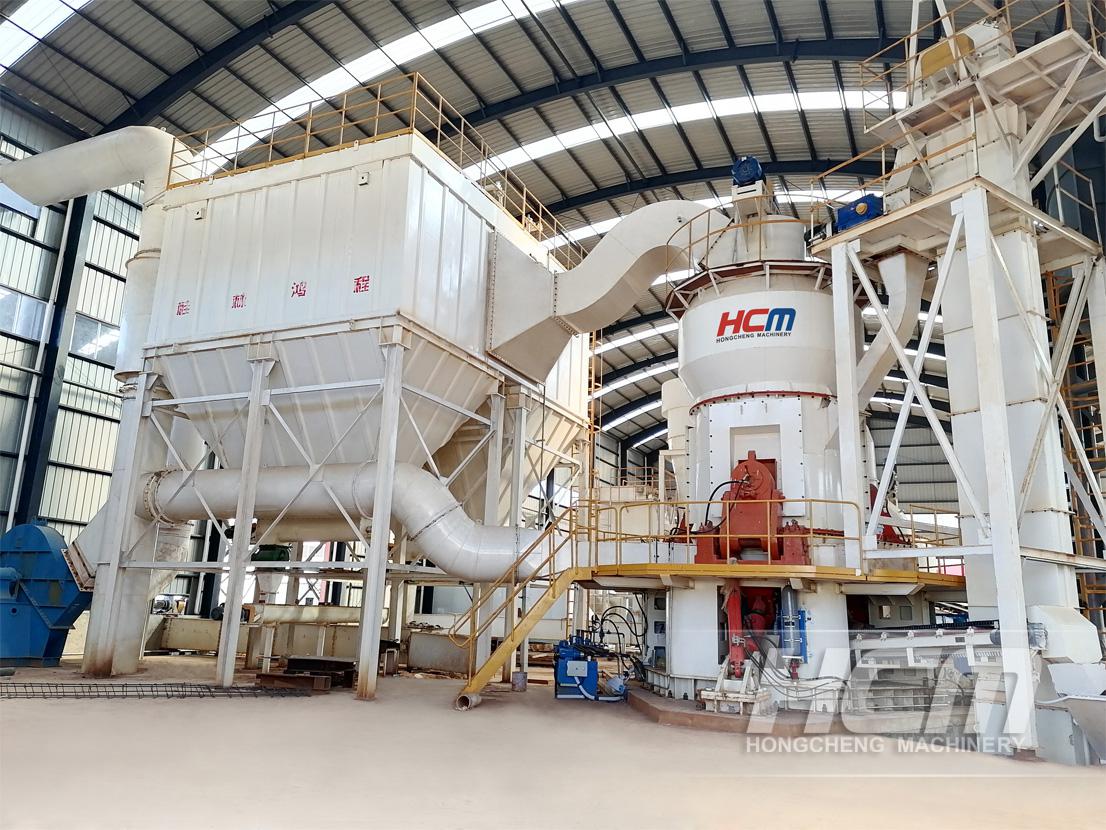 HLM bentonite vertical roller mill production line
With the upgrading of the scale and application requirements of the bentonite industry, the traditional small-scale and multi-equipment extensive processing mode can no longer meet the market demand. Therefore, there is a great potential market to use new grinding technology and equipment to improve the processing scale and technical level of enterprises. Bentonite vertical mill has the advantage of large-scale production. Through the process of bentonite grinding, it can efficiently produce high-quality bentonite powder.
The HLM bentonite vertical roller mill production line developed and produced by HCMilling(Guilin Hongcheng) integrates crushing, drying, grinding and transportation, which can be used as a bentonite grinding mill machine to prepare bentonite. Bentonite grinding process flow is as follows: Bentonite materials are sent to the center of the rotating grinding disc by the air-locking feeding equipment, and the bentonite enters the grinding roller table under the action of centrifugal force. The grinding roller is continuously rotating and rolling, so the bentonite is crushed by extrusion, grinding and shearing. At the same time, the hot air is sprayed from the air ring around the grinding plate at high speed and evenly upwards. The milled bentonite is blown up and dried, and enters the classifier with the wind. The qualified fine powder passes smoothly, and the coarse powder falls back to the grinding area for further processing. The fine powder is collected by the dust collection equipment through the pipeline, which is the finished fine powder of bentonite.
The production practice shows that the bentonite vertical grinding mill has the advantages of large single machine production capacity, simple process flow, simple operation and high degree of automation. As a professional manufacturer of grinding equipment, HCMilling(Guilin Hongcheng) can provide a variety of configurations of bentonite vertical grinding mills, and can configure different main mill models as production line mill host. Stable output, low energy consumption, low noise, powder fineness can be adjusted steplessly.
For more information about bentonite grinding mill and bentonite vertical mill, please contact mkt@hcmilling.com or call at +86-773-3568321, HCM will tailor for you the most suitable grinding mill program based on your needs, more details please check www.hcmilling.com. Our selection engineer will plan scientific equipment configuration for you and quote for you.