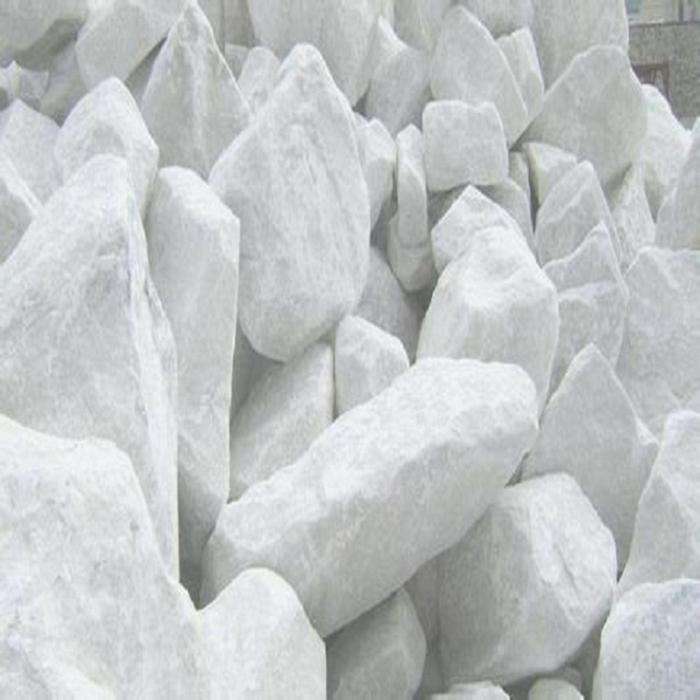 What is Barite?
Barite is a non-metallic mineral product that mainly composed of barium sulfate (BaSO4) and can be ground into powder by Barite grinding mill. Pure barite is in white and shiny. Thanks to the effect of impurities and mixtures, it is often in gray, light red, light yellow, etc. Superior barite is in transparent crystals. Barite has a stable chemical property, insoluble in water or hydrochloric acid, non-magnetic and toxic, and can absorb X-rays and gamma rays.
The Applications of Barite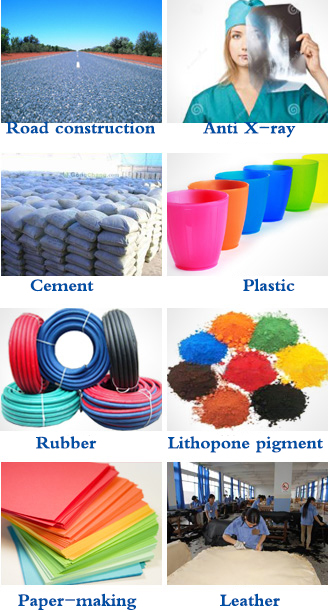 Barite is a significant non-metallic mineral raw material with diverse industrial applications.
① Weighting agent for drilling mud : when drilling oil and gas wells, adding barite powder to the mud is an effective method to increase the specific gravity of mud. This is the most commonly used method in drilling operations to effectively avoid the issue of blowout accidents.
② Lithopone pigment: It can be used as the raw material of painting pigment, and it is a commonly used high-quality white pigment.
③ Various barium compounds: barite is the raw material in making Barium oxide, barium carbonate, barium chloride, barium nitrate, precipitated barium sulfate, barium hydroxide and etc. 
④ Fillers in industrial : Barite powder can be used in painting industry, barite powder fillers can increase paint film thickness, strength and durability. In the fields of papermaking, rubber, and plastics, barite can increase the hardness, abrasion resistance, and aging resistance of rubber and plastics. Lithopone pigments are also used in the production of white paints which has more advantages than lead white and magnesium white when used for indoors.  
⑤ Mineralizer for cement industry: using barite and fluorite composite mineralizers in cement production has an obvious effect on promoting the formation of C3S and activating C3S, and the quality of clinker has been improved.
⑥ Anti-ray cement, mortar, and concrete: barite can absorb X-rays, we can make Barium cement, barite mortar, and barite concrete to replace metal lead plates that shield nuclear reactors and X-ray-resistant buildings in scientific research and hospitals.
⑦ Road construction: Rubber and asphalt mixture that containing about 10% barite has been successfully used in parking lots which is a durable paving material.
⑧ Others: Barite and oil are blended and coated on the cloth base to make tarpaulin; barite powder can be used to refine kerosene, and contrast agent for the digestive tract in the pharmaceutical industry, it can also be used in the production of pesticides, leather, and fireworks. In addition, barite is also used to extract barium metal and used as a getter and adhesive for TV and other vacuum tubes. Barium can be alloyed with other metals (aluminum, magnesium, lead, calcium) for bearing manufacturing.
Barite raw material composition analysis

Model Selection of Barite Grinding Mill

 
Note: 1. Select the main mill according to the capacity and fineness requirements;
Phase 1: Crushing the raw materials
Barite blocks are crushed by the crusher to the size of 15mm-50mm and into grinding mill.
Phase 2: Grinding
The crushed coarse Barite are sent to the storage hopper by the elevator, and then sent to the grinding chamber by the feeder for grinding.
Phase 3: Classification
The ground material is classified by the classification system, and the unqualified powder will returned to the main mill to be reground.
Phase 4: Collection of finished products
Analysis of different types of grinding mill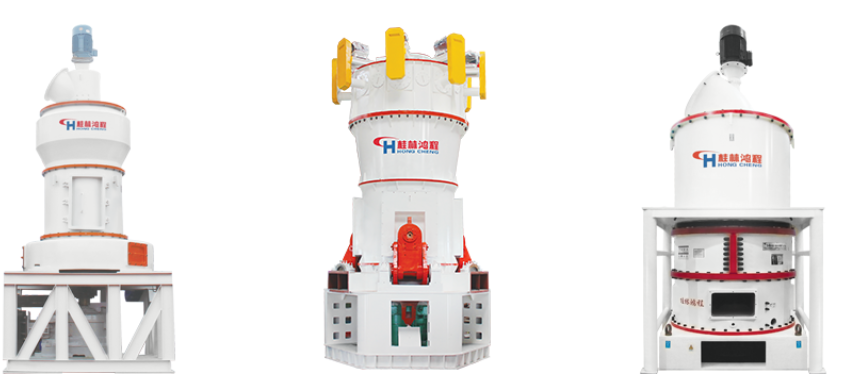 HC series Large-scale Pendulum Grinding Mill
It is used for grinding coarse powder below 600 mesh, featuring low capital investment, reduced energy consumption.
HLMX Series Super Fine Vertical Grinding Mill
Large-scale equipment and high throughput rate, strong stability is high. Disadvantages: high equipment investment costs.
HCH Ultra-fine Grinding Mill
Superior ultra-fine powder, lower energy consumption, reduced equipment investment cost. This mill has a good The market prospect. Disadvantage: lower throughput rate. 

Barite Powder Case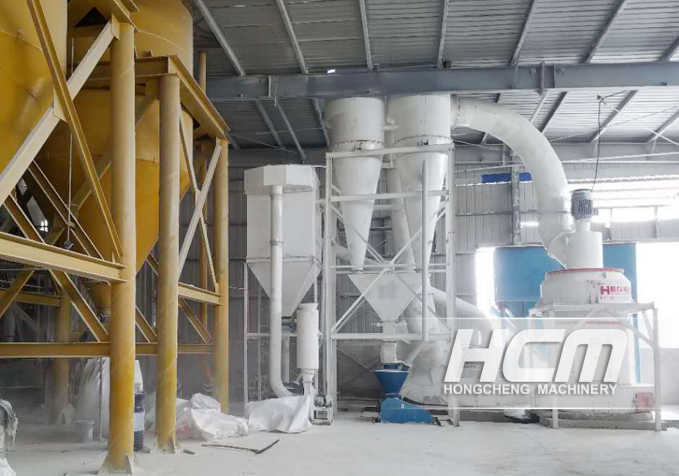 The qualified fine Barite powder enters the dust collector through the pipeline along with the airflow for separation and collection. The collected finished powder is sent from the conveying device to the finished product bin through the discharge port, and then packed by a powder tanker or automatic packer.
Model type and quantity: 1 set of HC1300 vertical grinding mill
Grinding Materials: Barite
Fineness: 325mesh D97
Capacity: 8-10t/h
The throughput of HC1300 is about 2 tons higher than conventional 5R machine under the production of same fineness, lower energy consumption. Full automatic controlled entire system, ease of operation, lower labor cost, more competitive. The whole process of the design, installation instructions, and commissioning of the entire project are free.