HC vertical pendulum mill is an innovative work of Guilin Hongcheng. It is an excellent mill that is upgraded on the basis of traditional mill. After years of market certification and customer feedback, the mill system is stable. It has reliable operation, strong adaptability to materials and outstanding processing advantages, and has gradually become alternative equipment for traditional mills.
Technological innovation:
★1. Reliable performance: the plum blossom frame and the pendulum grinding roller device are adopted, and the overall structure is stable and scientific and reasonable;
★ 2. Smooth operation: low vibration, low noise, the main base of the main unit is casted once, which greatly improves the smoothness of operation;
★3. High grinding efficiency: In the unit grinding time, the processing capacity of the material is large, and the grinding efficiency is high. Compared with the R-type machine of the same power, the production capacity is increased by more than 40%, and the unit power consumption cost is saved by more than 30%. ;
★ 4. Energy saving and environmental protection: equipped with pulse dust collector, the dust collection efficiency is up to 99%, and the processing workshop basically achieves no dust spill;
★5. Convenient maintenance: the sealing structure design is scientific, the grinding roller device can realize 300-500 hours of filling grease once, and the main grinding roller assembly adopts maintenance structure, which greatly reduces the maintenance time;
★6. High degree of automatic control: the main machine, fan and classifier are all equipped with variable frequency speed control PLC control;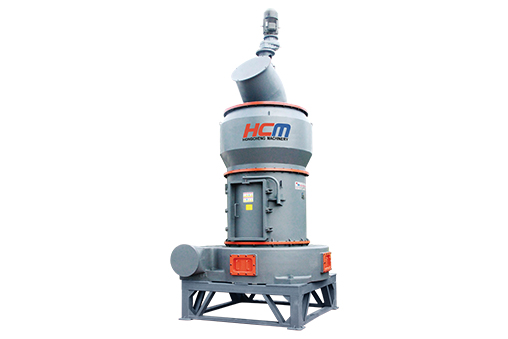 Application areas:
The HC vertical pendulum mill is a successful masterpiece of the Hongcheng team, which is constantly innovating and reforming. It is currently used in a wide range of applications, such as limestone, marble, barite, dolomite, talc, gypsum, phosphate rock, aluminum crucible. In the processing and production of powders such as soil, bentonite and titanium dioxide, with the advantages of high efficiency, low energy consumption, long service life and easy maintenance, it has gradually become a fine grinding machine for increasing production and income in the powder field.
Strength display:
After years of hard work, Guilin Hongcheng has accumulated rich experience in machining and manufacturing, and successfully developed equipment such as vertical mill, Raymond mill, ultra-fine mill, ultra-fine vertical mill, and opened metallurgy. , building materials, chemicals, industrial solid waste, thermal power plants, cement plants, environmental protection and many other markets, Hongcheng's mill products and services all over the world, with strong production and research and development strength to promote the development of Hongcheng mill mechanism powder industry.
★1. Production strength: The workshop is equipped with complete supporting facilities and testing and measuring equipment, complete quality inspection and quality control means, all kinds of well-equipped production equipment and complete sets of equipment, high production technology, mature team and advanced manufacturing level.
★ 2. R&D strength: has a complete production and research system, and with the China University of Mining and Technology, Guangdong Nonferrous Metal Research Institute, Guilin University of Technology, Guilin University of Electronic Technology and other research institutions to strengthen the establishment of industry-university-research cooperation, Injecting strong scientific and technological strength into the research and development and production of the mill.
★3. After-sales service strength: After years of development, Hongcheng's sales network and service organization radiate more than 80 countries and regions around the world, providing energy and effort for each customer's site, providing fast, efficient and perfect after-sales service and technology.
★ 4. Hongcheng team: Guilin Hongcheng division of labor details, the team is huge, each employee has his own duties, work together, adhering to the quality of survival, business as the operating principle of experience, follow the customer-centric, market-oriented core values, continue to carry forward the hard work, the entrepreneurial spirit of hard work, fulfill their duties, carry the mission, and contribute a global brand to China.
Case appreciation: