In the golden autumn, the beautiful Canton city will once again usher in a grand trade event, the 126th China Import and Export Commodity Fair.
As an old friend of the Canton Fair, and also a strengthful grinding equipment manufacturer, Guilin Hongcheng Mine Equipment Manufacturing Co., Ltd. will bring new technological achievements and excellent trump-brand products on schedule. Guilin Hongcheng is looking forward to your arrival.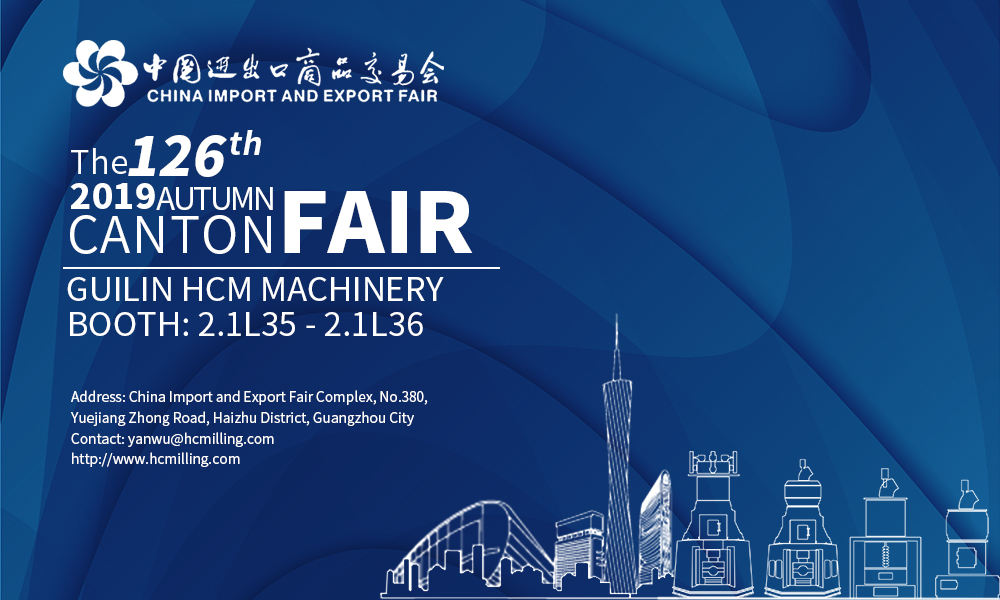 The 126th Canton Fair
Date: October 15th to 19th , 2019
Booth number: 2.1.L36-2.1.L35
Location: Pazhou International Convention and Exhibition Center, Guangzhou.
Since its inception in 1957, after decades of development and growth, the Canton Fair has become China's longest, highest level, largest scale, the largest variety of goods, the largest number of buyers, the widest distribution of countries and regions, and the best comprehensive international trade event. It has the reputation of "China's First Exhibition". Canton Fair is a high-quality platform for Chinese enterprises to open up international markets and build a bridge of friendship between China and foreign trade exchanges.
If the Canton Fair is a window of China's foreign trade, then Guilin Hongcheng is a shining business card of China-made grinding equipment facing the world! Guilin Hongcheng has always been at the forefront of grinding machinery manufacturing, following the pace of technological trends, through continuous reform and innovation, has launched a number of new series of excellent pulverizing products, including large vertical mill, ultra-fine vertical mill, new vertical pendulum mill, improved Raymond mill, ultra-fine ring roller mill, high-end intelligent calcium hydroxide production line and so on.
Over the past decades, Guilin Hongcheng has adhered to the principle of quality and service, and actively provided customers with a set of professional powder processing solutions. Hongcheng Mill has not only won wide acclaim in the domestic market, but has also gone abroad and exported to America, Africa, Europe, Southeast Asia, etc., to provide solid backing for the global powder industry's booming.
Guilin Hongcheng has attended the Canton Fair for many years, and the friendship of old friends is unbreakable. Guangzhou Fair is a wonderful stage, where Guilin Hongcheng is fully displayed, known and familiar by more audiences, and makes a large group of good partners; while Guilin Hongcheng is a dazzling light, adding more unique mechanical charm to the stage of Guangzhou Fair.
Autumn is the harvest season; let's meet Guangzhou Fair at October 15th to 19th, Guilin Hongcheng looking forward to meet you there.