At the beginning of the 2020, Guilin Hongcheng ushered the smooth delivery of the first grinding mill. On February 22, with the unity of all Hongcheng people, an HC1500 vertical pendulum grinding mill has been produced and successfully embarked on the journey to the customer's site. At the beginning of this year, Guilin Hongcheng never forgets its original intention, adheres to the business philosophy of quality and service, strives for innovation and creates a grand new blueprint!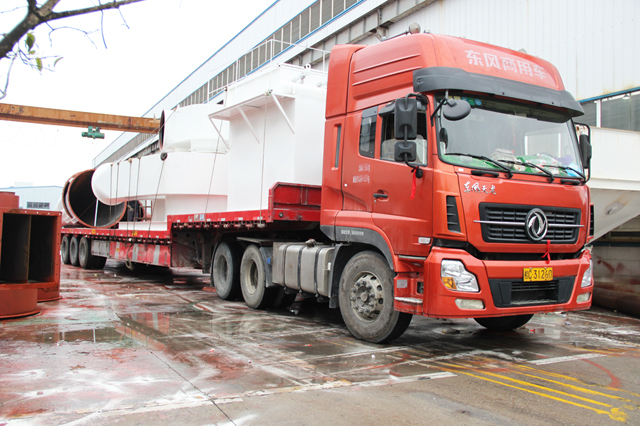 Entering the workshop, the HC1500 vertical grinding machine that will be sent to the customer's site has been placed on the truck by category. Several installers are carrying out the relevant procedures of handling, hoisting, counting and confirming in an orderly manner. In a long string of deafening firecrackers, the Raymond grinding machine equipment loaded with customer trust and hope has started the journey to the customer's site. The company will create income for grinding projects and value for customers by keeping improving grinding technology and craftsmanship.
In the new year, a new beginning, a new pattern, in the new journey in 2020, Guilin Hongcheng is full of the heart of creating income for customers, and continues to fight on the road of grinding machine R&D and manufacturing, no matter how difficult the situation, no matter how cruel the competition, Hongcheng people are still enthusiastic and hopeful, continue to supply high-quality grinding machine equipment for customers, and still focus on quality and service. Our philosophy is to strive to be the first, to work steadfastly and to create value together.
2020 is a new year full of opportunities and challenges. With a brand-new attitude and face, Guilin Hongcheng will focus on customers, market, quality and service, forge full momentum, work together, and make great achievements. HC vertical pendulum mill is a star mill created by Guilin Hongcheng. It is an innovative environment-friendly grinding mill that breaks through the disadvantages of traditional mill and realizes the grinding needs of high production capacity and low energy consumption. It is highly praised and favored by powder customers.
Guilin Hongcheng has rich experience and the innovative spirit of keeping pace with the times. In the intensive work, the Raymond mill, vertical mill, ultra-fine mill, ultra-fine vertical mill and other equipment manufactured by Hongcheng have withstood the market and test, and also won the favor and support of customers at home and abroad. It has not only become a representative mill brand at home, but also popular overseas and become a booster industry. It is a professional mill equipment constructed and developed in many industries, such as solid waste, metallurgy, building materials, non-metallic ore, coal powder, petroleum coke, thermal power plant, cement plant, etc.