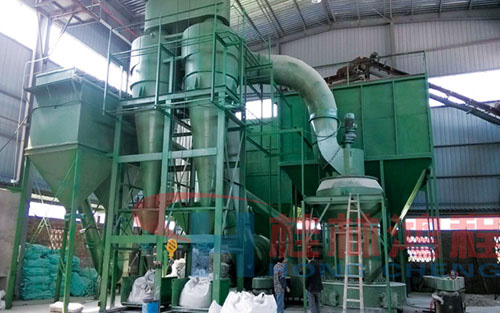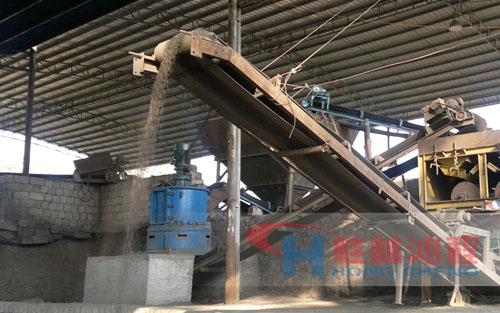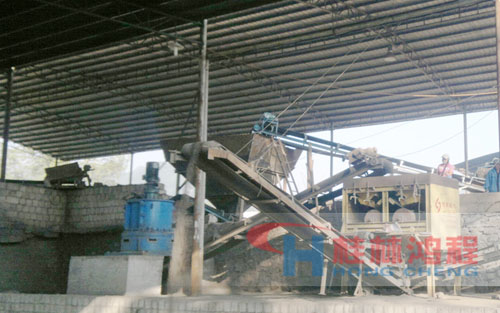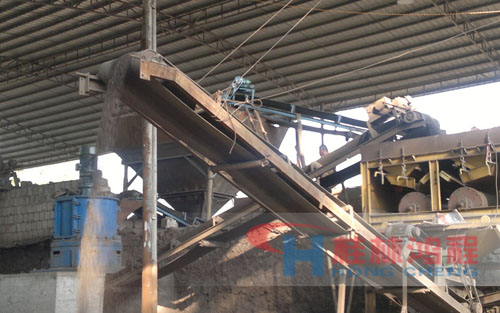 HCD1300 Grinding Mill
HCD Series Grinding Mill is Able to Produce 20-80 mesh Powder
Max feeding size:
25mm
Capacity:
3~10t/h
Fineness:
20-80 mesh
Based on years of R&D experience on grinding mill industry, our senior engineers developed the R Series Grinding Mill and create the brand new high efficiency powder processing equipment--HCD Series Coarse Powder Grinding Mill. Traditional Raymond mill can not produce coarse powder under 80 mesh, but the new mill broke the limit to full fill the requirement of our customers, and it also has a high capacity. HCD Series Grinding Mill is able to produce 20-80 mesh powder, and is widely applied in powder processing of marble, kaolin, bauxide, limestone, quartz, silica sand, lead zinc ore, etc. Product fineness can be easy adjusted, the equipment has a wider application and better performance.
HCD1300 Grinding Mill is widely applied in chemical industry of glass, rubber, pesticide, ceramic, oil paint, phosphate fertilizer and paper making. And, it is widely used to grind nonflammable and nonexplosive minerals with Mohs hardness below 7 and moisture below 6%, such as: talc, barite, calcite, limestone, manganese, iron ore, chrome ore, quartz, gypsum, graphite, carbon, bentonite, etc.
The equipment has the advantages of low floor space, strong systematic, wide application, easy operation, easy maintenance, stable performance and high cost effective, it is an ideal equipment of powder processing industry.
The equipment consists of main mill, classifier, blower, bucket elevator(optional), crusher(optional), belt conveyor, storage hopper, pipe system, electronic control cabinet, etc.
| Model | Max.Feeding size (mm) | Fineness (mm) | Capacity (t/h) | Total Power (kw) | Weight (t) | Overall Dimension (mm) |
| --- | --- | --- | --- | --- | --- | --- |
| HCD850 | ≤30 | 0.18-0.038 | 7-10 | 15-22 | 3.5 | 1400×1400×2000 |
| HCD1100 | ≤30 | 0.18-0.038 | 12-15 | 22-30 | 5.8 | 1600×1600×2500 |
| HCD1500 | ≤30 | 0.18-0.038 | 20-25 | 37-45 | 10 | 2000×2000×3000 |
1. The main mill is applied with brand new fixed roller structure (Hongcheng patent), product fineness can be selected by adjust the clearance of roller and ring. The roller is out of touch with the ring, this will reduce the vibration of the main mill;
2. Maintenance free sealing structure(Hongcheng patent) on roller device ensuring 1000 hours' operation with out lubrication;
3. Applied two level belt dual driving device(Hongcheng patent), offering smooth driving and easy maintenance;
4. The mill is equipped with classifying-collecting system, which has a dust collecting capacity of 99.9%. All the positive pressure parts are sealed, ensuring dust-free workshop;
5. Muffler is equipped on the air outlet of the blower, which reduce the noise of the facility;
6. The equipment is applied with multiple patent technologies of Hongcheng, ensuring low noise, low vibration, low dust, high capacity and smooth operation.